AHOI and Welcome to District 1940!
What are Rotary Youth Leadership Awards?
Rotary Youth Leadership Awards (RYLA) is Rotarians working with young adults in leadership development. Young people aged 18-30 (trainees, students and young professionals), chosen for their leadership potential, attend a 4 day camp, organised by Rotarians. Global challenges need proactive youth leaders with self confidence and a capacity to be positive role models to others. The impact of the program spreads well beyond the duration as the RYLArians will walk away with the inspiration, motivation, knowledge and skills to solve the world's most pressing challenges.
What does our baltic sea RYLA 2022 offer?
We are located in the north east of Gemany and would like to invite you to our RYLA camp. From 10th to 13th of June 2022 we want to engage the challenges and threats regarding the state of the seas by taking a focus on Baltic Sea. Being a fragile inland Sea, human influence is potentised compared to other seas, whether regarding human-induced dead zones, impact of fishery and tourism as well as a faster processing climate-change.

The programme includes high professional keynote speakers, presentations and leadership activities taking place in different locations as well as abord of a historic sailing ship. Starting at the MaJuWi, our frame location in the old fishery port of Greifswald, there will be activities and team problem-solving sessions involving the Baltic Sea when sailing to and back from Stralsund. Belonging to the internationally renowned German Oceanographic Museum, the Ozeaneum in Stralsund will help to gain a wider understanding of the biggest threats and challenges.
We want to develop leadership skills as well as the capacity to contribute effectively to explore problem-solving strategies as part of a team. Therefore, the presentations and activities target to build confidence in yourself, to improve communication skills and learn how to arrange activities. As part of a small team you will elaborate ideas of problem-related service projects for a presentation at the completion of our RYLA.
Ready to take your leadership to the next level? We hope to see you take part in Baltic Sea RYLA 2022!
For any further questions, contact Stefan Suckow from the RYLA Team ryla@rotary1940.org
we have prepared an outstanding program for you…
Day 1
Get together and get to know your group
Welcome by District 1940 Governor and president of HELCOM
impulse presentation and discussion with Timo Rittweg
Dinner
Sports and games
Day 2
Day 3
Day 4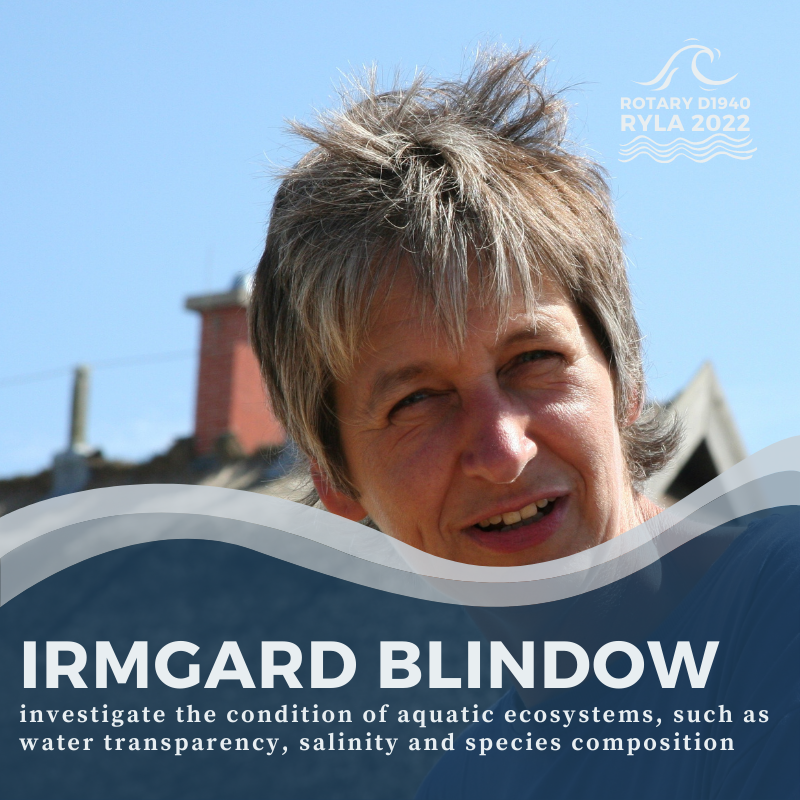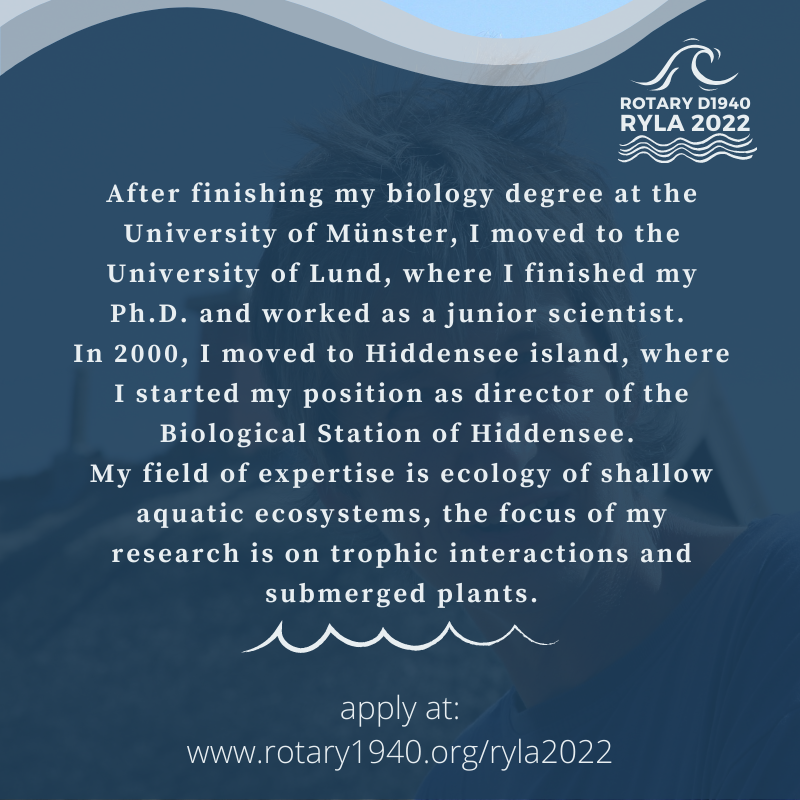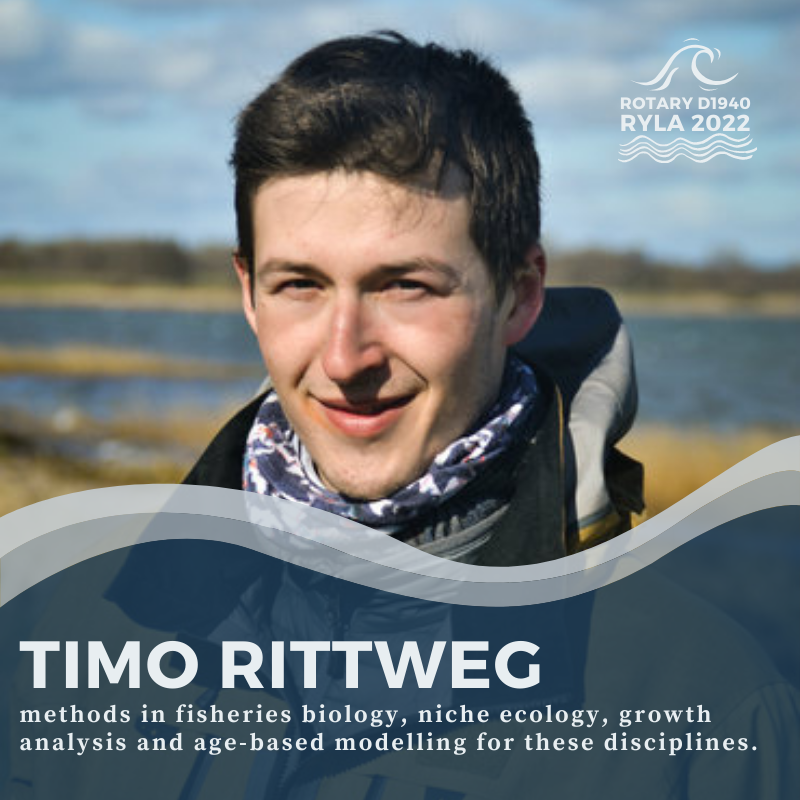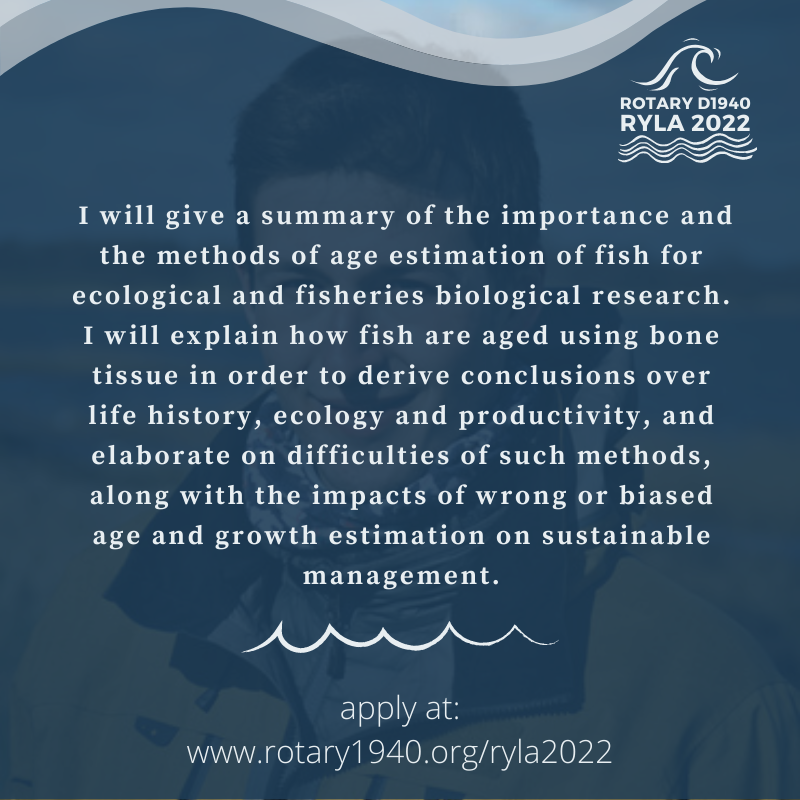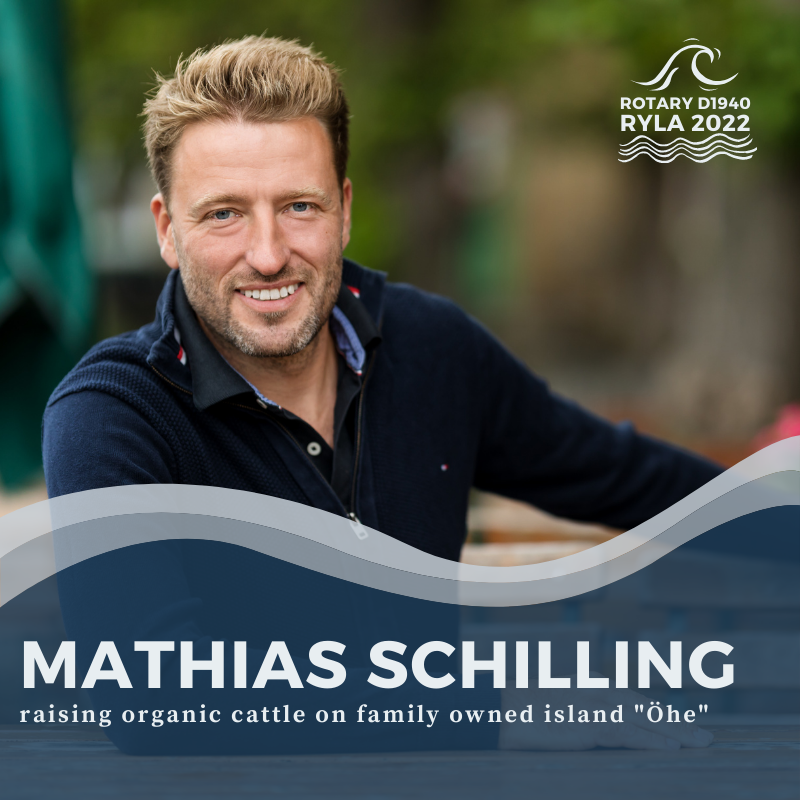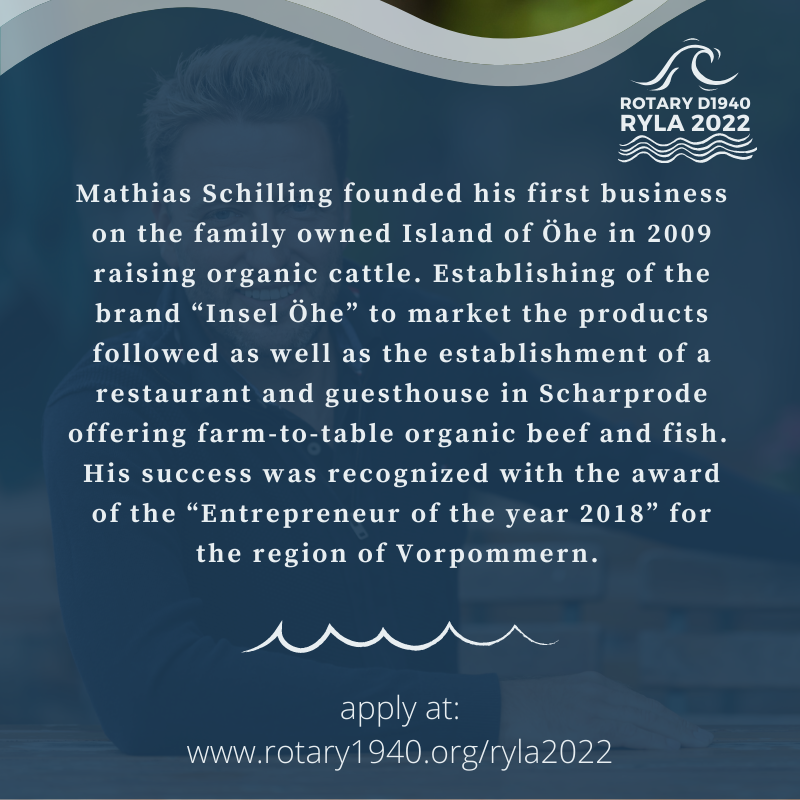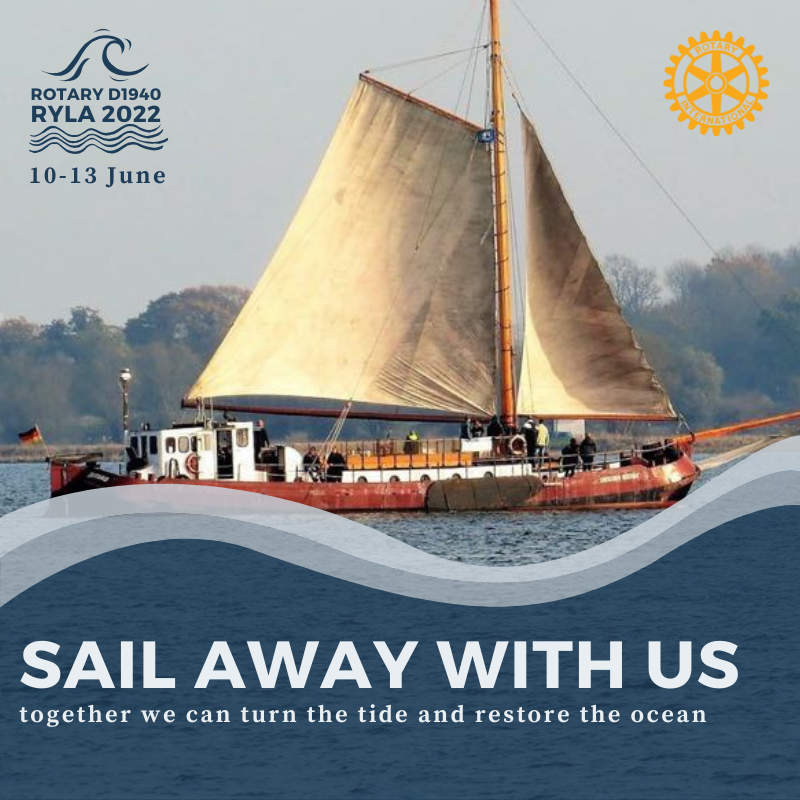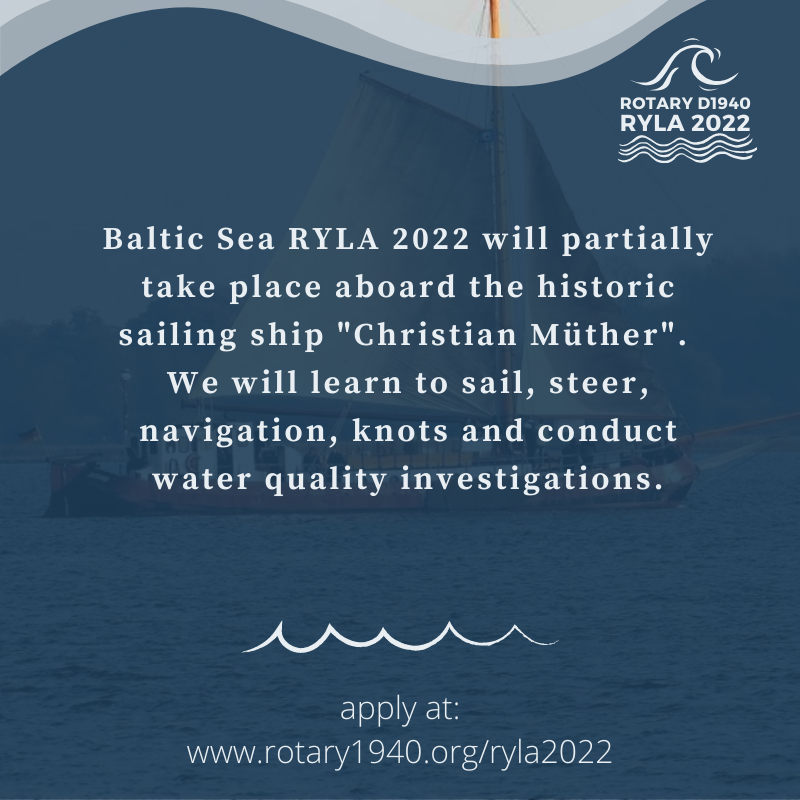 ONLINE REGISTRATION: Registrations are made online. The registration process is completed upon full completion of the online registration form, and the receipt of a confirmation e-mail from the organizers (Herein, the organizers will be referred to as RYLA 1940).
REGISTRATIONS: RYLA 1940 accepts online registrations only. To register for the event, participants must fill in the corresponding registration form to which a link can be found on the website (www.rotary1940.org/ryla2022) and write a short essay explaining your motivation to join RYLA and telling us about your personality, your life as a Rotaractor and how you think you can contribute to an amazing Baltic sea RYLA.
REGISTRATION FEE: The applicable registration fees are indicated on our website  (www.rotary1940.org/ryla2022). The registration fee includes entry to the events, pick-up from and drop-off at the train station, basic accommodation through the event, basic meals (Breakfast, Lunch, Dinner) during the event, all ground transfers for sightseeing, entrance fees to all sightseeing spots included in the package and English speaking guide services.
PAYMENT: After successful application, the chosen participants will get an email with payment details (German bank account with IBAN and BIC, payable in EUR). Payment is accepted by bank transfer only. Costs of money transfer must be paid by the participant. Once the payment arrived on the account you will receive a confirmation email with additional information.
CONFIRMATION OF REGISTRATION: You shall always receive a confirmation of your application. A legally binding contract will be formed once you obtain a separate confirmatory e-mail ("congratulations, you are chosen to be participant") and we receive your bank transfer acknowledging that your subscription order has been received and successfully processed. We will not be responsible if you fail to receive confirmation because you have supplied us with an incorrect e-mail. If you do not obtain anything, please send an e-mail to ryla@rotary1940.org to make sure that we have received your application. Please notify us immediately of any corrections necessary to your registration.
CANCELLATIONS: We reserve the right to defer or cancel any course if there are insufficient bookings, or conditions arise, which are beyond our control.
Especially because of the current pandemic situation we want to make you aware that this year's RYLA seminar will only be taking place if the situation is safe. Your health and safety are our top priority.
Cancellations by the registrant must be received in writing by e-mail to ryla@rotary1940.org no later than four weeks prior to the trip.
Registrations are transferable and registrants may substitute another person by submitting a written request in the name of the new registrant. The final decision is made by the RYLA Team.
REFUNDS: Cancellation by the chosen participant will be subject to cancellation charges as follows:
1) Cancellation before four weeks prior to the seminar: Should you or your substitute be unable to attend, and provided you have informed us by email, we will refund your registration fee (less any bank charges incurred by either party).
2) Cancellation after four weeks until two weeks prior to the seminar: If you would like to cancel, we would appreciate your notification by email, so that others could avail of your seat. 10% charges of the registration fee are applicable to all cancellations in this period of time (plus any bank charges incurred by either party).
3) Cancellation after two weeks prior to the seminar: All cancellations after two weeks prior to the trip are non-refundable.
CHANGES: We reserve the right to make changes to the published programme. However, you will have no claim against us in respect of such changes, and these do not entitle you to cancel your registration.
DATA PROTECTION: The personal information provided by you will be held on our database. It will be used to choose the participants for the seminar. Only the "Application-Committee" will receive your CV and data. The e-mail-address of all applicants will be used keep you up-to-date with developments of our activities and tours in the following years. If you do not wish your details to be used for this purpose, please send your request to ryla@rotary1940.org
RIGHTS IN MATERIAL: All copyright and other rights in materials provided to you during or for the purposes of RYLA District 2022 are the property of Rotary District 1940. You are entitled to use such materials only for your own personal study. However, promotion of such materials is acceptable with prior permission from Rotary District 1940.
RIGHTS OF PICTURES: During the tour we will take pictures and videos. By submitting your application, you agree on using these pictures for marketing purposes (i.e. on Facebook, on the website, in the Rotary Germany Magazine, Newspapers and others) by Rotary District 1940.
LIABILITY AND INSURANCE: RYLA 1940 will not assume any responsibility whatsoever for any damage or injury to persons or property during the seminar. The participants are recommended to arrange their own personal travel and health insurance.
APPLICABLE LAWS AND COMPETENCE: The relationship between RYLA 1940 and the registrant will be exclusively governed and construed in accordance with the laws of Germany without giving effect to any principles of conflicts of law. If no agreement can be reached, any dispute related to the commercial relation will be taken in charge by the exclusive competence of the German jurisdiction. All participants are responsible for adherence of German laws (don't worry, if you are not sure whether something is legal in Germany or not, just ask us)
LIABILITY: RYLA 1940 has no liability for loss or damage to any of your personal property except where this is due to the negligence of RYLA 1940. RYLA 1940 will not be liable for any indirect or consequential loss suffered by you; or any loss of profits or loss of business (direct or indirect) suffered by you. RYLA 1940 has total liability to you in contract, tort (including but not limited to negligence) or otherwise shall not exceed the relevant booking fee paid.
FORCE MAJEURE: RYLA 1940 will not be liable for any default or delay in the performance of its obligations, to the extent that such default or delay is caused, directly or indirectly, by an event beyond the reasonable control of us such as, but not limited to: fire, flood, earthquake, elements of nature, acts or regulations of government bodies, court orders, acts of war, terrorism, riots, civil disorders, rebellions or revolutions, strikes, traffic jams, lockouts or labour difficulties. Such event or circumstance giving rise to the default or delay is a Force Majeure Event.
By completing the registration process and making payment you agree to be bound by these terms and conditions and confirm that you are aware of the German visa regulations which apply for you and obey these.
These terms apply to all bookings submitted for our events. They might be amended by us, therefore, we recommend you to read our current terms and conditions on our website before submitting each booking, or write us to request a copy of the same.